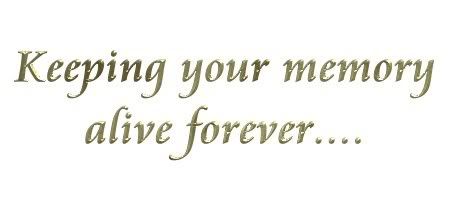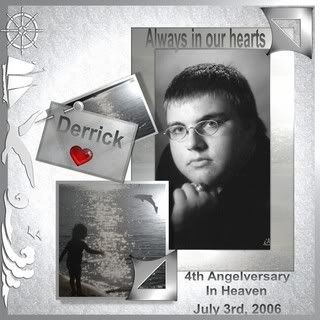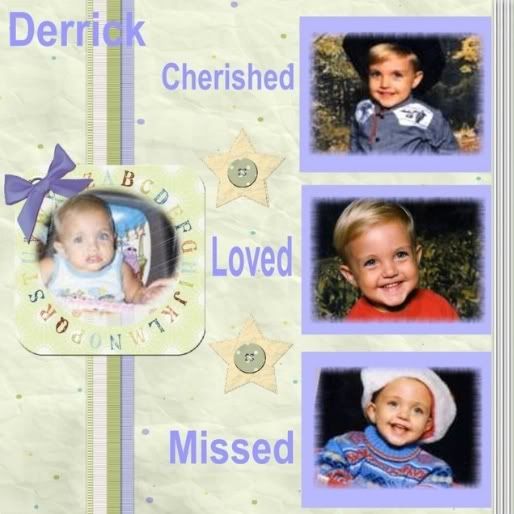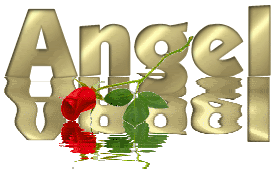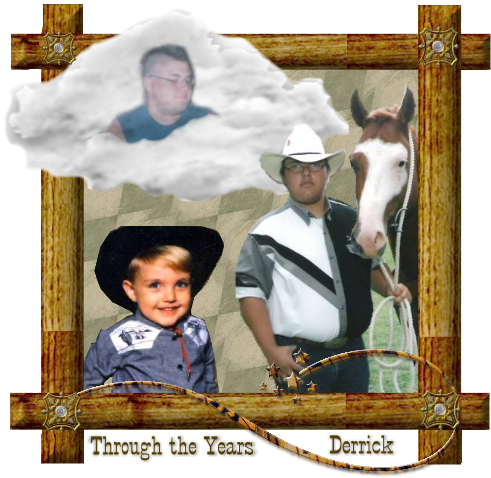 Derrick was raised around horses and animals from day-one, thanks to his Aunt Beverly and Uncle Dennis Hammon. He was riding horses before he could walk. He loved his animals. He was an avid hunter, an active member of the Paragould High School chapter of the Future Farmers of America, a lifetime member of the North American Hunting Club, volunteer for the Greene County Fair Board, a member of the Happy Trails Riding Club, and employed by Arkansas Storm Shelter and Septic. He had a special friend, James Francis, who took him to his hunting classes. He was going to attend Vo-tech in the fall of 2006 and study auto mechanics/auto body repair. When he was little he used to say he wanted to be a veterinarian, but the studying and book work got to him. He needed to be outside. He was steer wrestling at the county fair in September of 2002 and blew his knee out. He had total knee replacement, but that didn't stop him. He went back to school using a walker, graduated to crutches, and by the first of the year he was walking again. His steer wrestling career over, he then turned to being a rodeo clown and driving in demolition derbys.




Derrick was a typical teenager. In the early morning hours of June 23, 2006, after being at his dad's for almost two weeks, he fell out of the back of a friend's pickup. He suffered three major head traumas, a broken neck, and multiple other injuries. He was transferred to LeBonHeur Children's Medical Center in Memphis, Tennessee, where he underwent several surgeries, was placed on life support, and never regained consciousness. He suffered a stroke on July 1st. On the morning of July 3, I made the agonizing decision to turn off the life support. He was brain dead, as over a half of his brain had to be removed. It is a day I will never ever forget. Derrick will be missed terribly and never forgotten.

ALWAYS REMEMBER, SON, MOMMA LOVES AND MISSES YOU ALWAYS AND FOREVER.


He lived his life to the fullest, enjoying everything he did. He graduated from Paragould High School on May 15, 2006, his sister Jessica's 15th birthday. He was so proud to receive his diploma. All he ever wanted to do was graduate from high school. He had a learning disability that kept him from comprehending things that he had to read. He was a "hands-on" person. Always taking something apart just to see how it worked. He could never sit still, even when he was asleep he was talking or moving around!


| | |
| --- | --- |
| Tributes and Condolences | |

I am blessed


I am blessed to have known you and your family. I am proud to have been able to care for Derrick. I never had a chance to meet him personally, but I feel like I had known him for years. I would like to thank Derrick's family for sharing him with me a... Continue >>

you have no idea


you really have no idea how much someone means to you until they are gone... especially one who truly could not have been a better person than derrick.... i remember the day to the exact minute, i kept thinking you would make bubby, instead i know yo... Continue >>

I Dreamed


I dreamed last night of HeavenAs I followed you there.I felt your presence, heard your heart,I almost touched your hair.I remember cryingJust because I missed you so.Though I was right behind you,I didn't want you to go.I begged for a reminderTo help... Continue >>

Fly High, Cowboy


A blessing was delivered from above into the lives of my family on September 10, 1988. We received an early gift from God named Derrick Matthew Rowe. This beautiful baby boy was bor... Continue >>

I wish I was One of the Lucky Ones


Were you one of the Lucky Ones? Did you get to meet the one that lived every day as if it were his last? Did you see that smiling face, did you hear his infectious laugh? Did you know the one that had a hug for even the ones that fussed at him? Did y... Continue >>
For your handsome son... Read >>
Lessons Learned Read >>
God how I miss you Read >>
Happy 21th Birthday! Read >>
Missing a Friend! Read >>
One of the Best Read >>
Today ~ two years ago ~ Read >>
You are not forgotten.... Read >>
hey buddy Read >>
yea.... Read >>
| | |
| --- | --- |
| His legacy | |

DERRICK'S FAMILY


Derrick is survived by his mother Marsha Rowe, his dad and stepmom Kevin and Missy Banks, a sister Jessica Eakins, grandparents Ruth "Nana" Rowe, Louise Banks, Carmon and Sue Rowe, step great grandmother Thelma Banks, Aunts and Uncles Robbie Holt, Cindy King, Crissy Rowe, Margaret and Ric Taylor, Matt Rowe, Beverly and Dennis Hammon, Cathy and Keith Banks, Patty Collins and many cousins, second cousins, friends and classmates. He has a very special cousin, Darrian Hammon and a special "grandpa" Roy Barrow.

He was preceded in death by his paternal grandfather, Ted Banks, his paternal great grandparents Edward and Prudie Banks, his maternal great grandparents Oval and Mable Haynes and Everett and Gracie Rowe, and three cousins, Jason and Gage Haynes and Jillian Sweeney, who suffered in a house fire in September of 2005.

Derrick was laid to rest on July 8, 2006, next to his grandparents in The Garden of The Cross, Greene County Memorial Gardens, Paragould Arkansas.



Derrick will live on




Derrick Matthew Rowe will live on in all our hearts.
Derrick's Photo Album